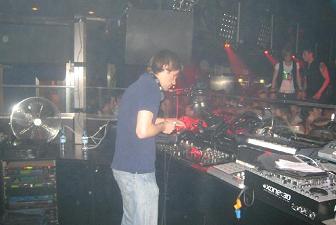 Founder and creator of "Actualites Electroniques", it is with the first album of Daft Punk "Homework" and the birth of the French Touch in the mid 90's, that Dj Aroy became familiar with electronic music. Gradually, French DJ like Laurent Garnier, Ivan Smagghe and especially David Guetta encouraged him to use the turntables.
Driven by a relentless desire to learn from and promote this electronic world often disparaged, he is behind many projects, like the podcast now widely recognized: Just A Little More House, with over 30 000 subscribers and which has been for more than 6 months the most downloaded music podcast in France. He is also for sure at the origin of this website about electronic music reviews, news and interviews.
Original and eclectic DJ, his culture is influenced by all styles, with a preference for minimal, techno and tracks with female vocals. He appreciates DJs like John Dalhback, Filthy Rich, Fred Falke, Marc Romboy and Sébastien Léger.
He had the opportunity to mix at the Queen alongside the number 1 DJ of the world Paul Van Dyk for his warm-up in 2007. Moreover, he had the opportunity to perform in many nightclubs in Paris: Le Queen, L'Etoile, Le Carré Washington, le Concorde Atlantique, the Vinyl, the Night, the Bus Palladium, the Bar of the ESTP, the Gibus, the Ozu, the HEC Gala and Dauphine University Gala, for a set of anthology with nearly 6 hours of non stop mix...